This sleek kit is everything you need to make a barista-quality coffee
Most importantly, it's airline-friendly! You can take it anywhere on the globe!
Advertising Disclosure
For many, coffee is a way of life. But when you are not in your home kitchen, bad coffee has a way of sneaking in. It is the most common problem for coffee connoisseurs who are always on the go.
If you ever really needed to make coffee while traveling, the Pakt Coffee Kit is the perfect go-to kit.
The Pakt Coffee Kit is the solution for these kinds of problems. It has all the pour-over components you need to take anywhere you go to have a good quality hot cup of coffee. It boasts a robust design to withstand the bumps and scrapes you experience when traveling, plus, it's accepted inside an airplane so you can make your own coffee up in the air.
Many portable coffee-making kits use gas canisters which are not suitable to fly at all. But The Pakt Coffee Kit is designed to be airline friendly, so you can take it wherever you go.
What is inside the Pakt Coffee Kit?
The kit contains everything you need to make pour-over coffee housed within a portable carrying case. It includes:
Electric kettle and dual voltage power base boils water to 205 °F
12 oz double-walled stainless steel travel mug and lid
Coffee grounds container
Collapsible stainless steel dripper that packs down to half its size
5-gram coffee ground scooper
Stainless steel mesh reusable filter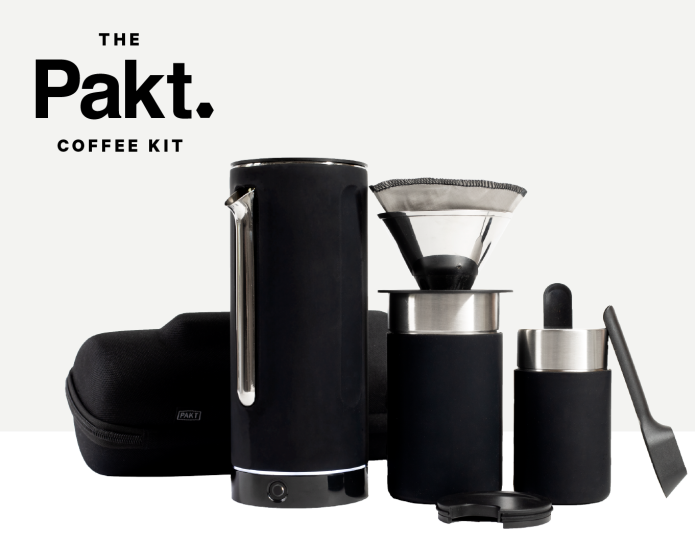 This coffee kit uses modern, durable, 100% animal-friendly technical materials and is shipped in 100% plastic-free packaging: no bubble wrap, no plastic bags, no air pillows, and no Styrofoam. Their packaging proudly bears the SeaHive seal. SeaHive helps companies replace the plastic used in their packaging with earth-friendly materials so no extra plastic lands in the ocean.
How to use the Pakt Coffee Kit?
The beauty of this coffee kit is that it is made for versatility so that you can use multiple pour-over methods based on your preferences.
Fill your kettle to the second line from the bottom (300 ml) with clean water.
Push the button at the base of the kettle to begin heating. The button on the power base illuminates to show that it is actively heating the water.
Lift the upper part of the dripper to engage the three nubs in the slots and twist to lock them into place
Place dripper on top of the mug
Insert reusable filter or, if you prefer paper, use a Hario V60 size 1 filter.
Add three scoops of medium/coarse ground coffee.
When your water is up to temperature, the kettle will beep to alert, and the light turns off. Slowly pour just enough water over the grounds to wet evenly.
Pause to allow coffee to bloom for 15-30 seconds
Continue pouring from the center out in slow, concentric circles until the water is gone.
Allow all the water to drain.
Enjoy your coffee!
Coffee is an essential part of many people's daily routine, and now making it is more special with the Pakt Travel Coffee Kit. This fantastic coffee-making kit is the dream ticket for coffee lovers everywhere and will help you minimize waste because every coffee you make in your room means one disposable cup off on the landfill.