This service provider is the world's most recognized VPN for a long time
Reddit-approved and has the highest ratings in the app!
Advertising Disclosure
A VPN is one of the most necessary cybersecurity tools you can have to protect yourself and your work against cyber attacks on the internet. It keeps your identity hidden and your browser history secure. When talking about VPN, one of the best providers most users recognize is the NordVPN.
NordVPN is a secure gateway to the internet, giving you full control of your network and 100% private access to the worldwide web. Their service allows you to connect to 2000+ remote servers in 60+ countries securing your internet data with military-grade encryption and ensures your web activity remains private while helping you bypass geographic content restrictions online.
What NordVPN boasts is that they have headquartered in Panama — a location where there are no data retention laws and its government does not (as far as we know) carry out internet surveillance. It only means that legally, NordVPN does not need to retain logs activities, making it one of the safest and most secure VPNs in the market.
NordVPN has risen in popularity over the years and continues to grow, because it aces the areas of security, privacy, and speed but offers it all at a hard-to-beat and affordable long-term subscription prices.
But what really sets it apart from the free VPNs is it has an easy-to-use app that is compatible with Windows, macOS, Android, and iOS. No wonder the NordVPN app racked up more than 59,000 ratings in the App Store giving it a score of 4.6 out of 5 and 132,871 reviews in the Google Play Store for a 4.4 out of 5 ratings. Even the lurkers of the Reddit community recommend this as one of the best premium VPNs in the market.
Is NordVPN worth your buck?
For less than $3 a month, you are getting a lot of features and performance with this highly-rated VPN. NordVPN promises ultra-fast download speeds and military-grade encryption at very affordable prices, which is totally worth it.
There are three pricing plans available in NordVPN, and the most convenient deal is its 2-year subscription because you get the full advanced VPN service without having to pay a fortune.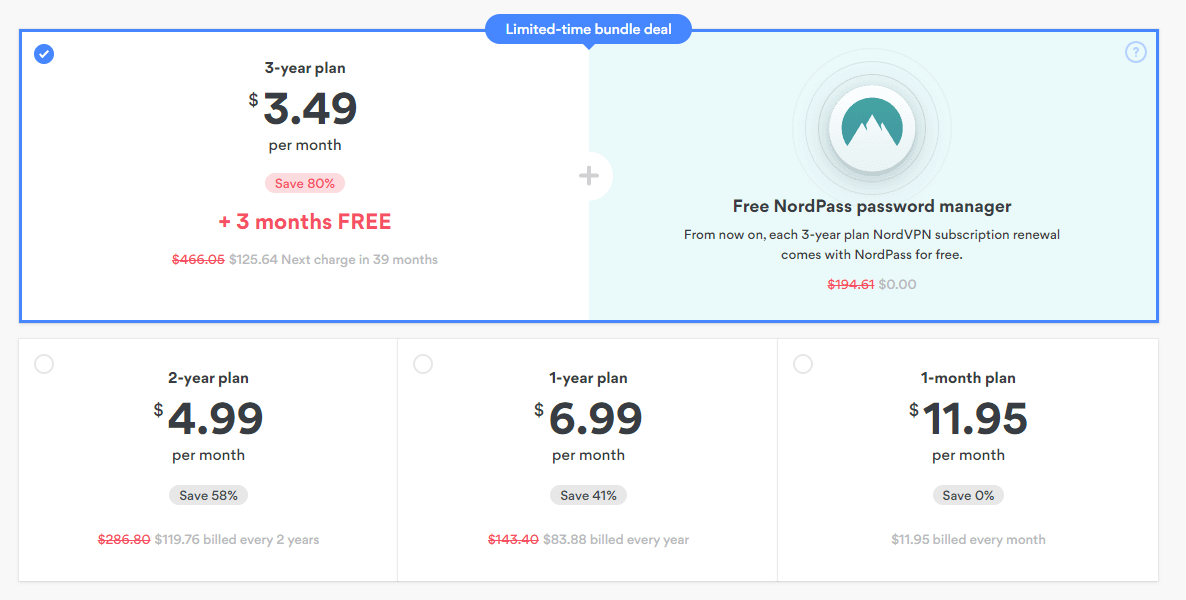 What are the most popular features of NordVPN?
NordVPN offers some solid features to enhance user privacy and security, above and beyond most other VPNs. Here are the 7 most popular features they have:
Secure internet
Strict no-logs policy
Use with ease
Multiple devices capability
Fastest VPN
Worldwide access
VPN servers everywhere
Our technology is forever changing, and the internet is becoming a more dangerous place for us users when we are not careful. With VPN services like NordVPN, we can ensure that our details, safety, and privacy online are kept hidden.