This Cushion foundation will change your complicated beauty routine for the better
It is a 3 in 1 hybrid product in compact packaging that provides sun protection, foundation, and skincare in one
Advertising Disclosure
Korean skincare products have been building up cult-like followers for several years now. From soothing sheet face masks to hydrating mists, every aspect of Korean beauty has taken Americans (and all around the world) by storm and got you all hooked up.
But Korean beauty is not just about skincare. Their beauty industry is known for innovations that seem to work on all skin types almost all the time.
Did you know that Koreans developed the first airbrushed-like foundation? We now know it as Cushion. It is a hybrid of base makeup, sunscreen, skincare functions, and skin cooling effects.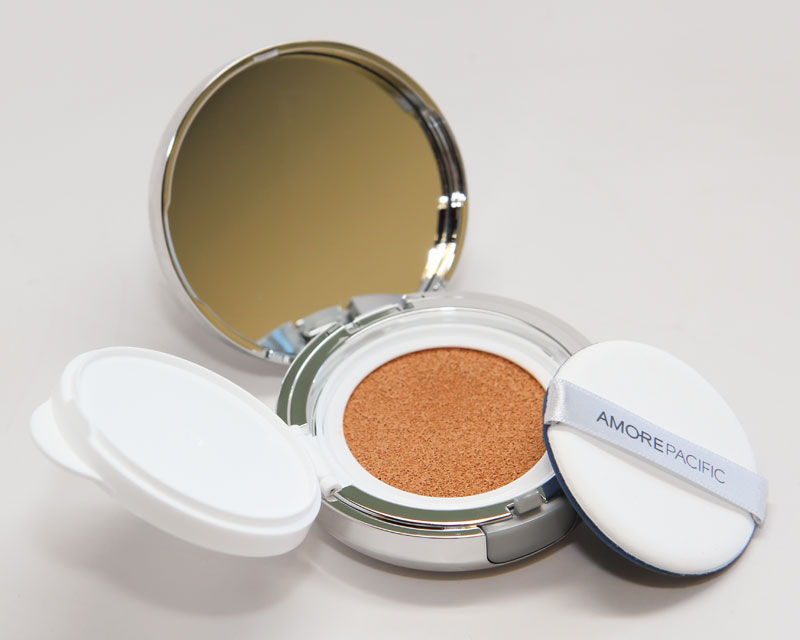 But Amore Pacific knew the infamous Korean Skincare method can get arduous and complicated, so they thought of improving Cushions. They are the first company to produce a Color Control Cushion Compact Broad Spectrum SPF 50+ product with Cushion technology.
The beauty of the cushion compact straddles the line between skincare and makeup. AmorePacific is a hero in the K-beauty industry. They infuse all their products with Asian botanicals from their green tea fields on Jeju Island in South Korea. So while you're applying makeup, you're also giving your skin a boost of hydration and protection from free radicals, and each swipe of the product gives you a dose of broad-spectrum SPF 50+.
What does Amore Pacific Color Control Cushion Compact Broad Spectrum SPF 50+ do?
Amore Pacific Color Control Cushion Compact is an airy makeup tool that can make you look completely airbrushed, without caking up your face. Their Cushion compact and technology has been a game-changing innovation in the beauty industry. The magic is down to the foundation-soaked cushion. It marries foundation makeup with skincare, in an easy-to-use package that women all over the globe adore.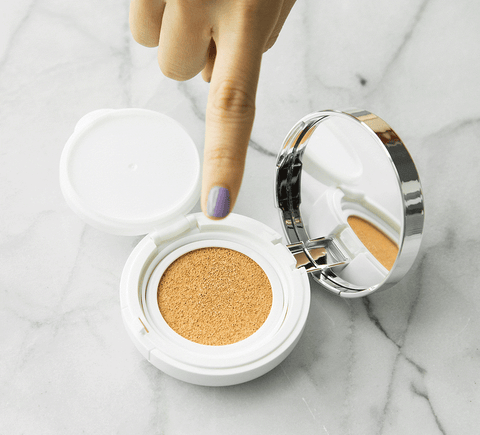 This cushion fills micro lines and ensures color build into fine even layers, and SPF 50+ protects against both harmful UVA and UVB rays. The compact also brightens and prevents skin irritation while providing superior antioxidant protection, while a hydrating bamboo sap formula replaces a traditional water-in-oil base for deep moisturization. Dynamic Fluid Capture System Technology transforms liquid into a refined emulsion. A non-absorbing air cell puff applicator cools and soothes the skin.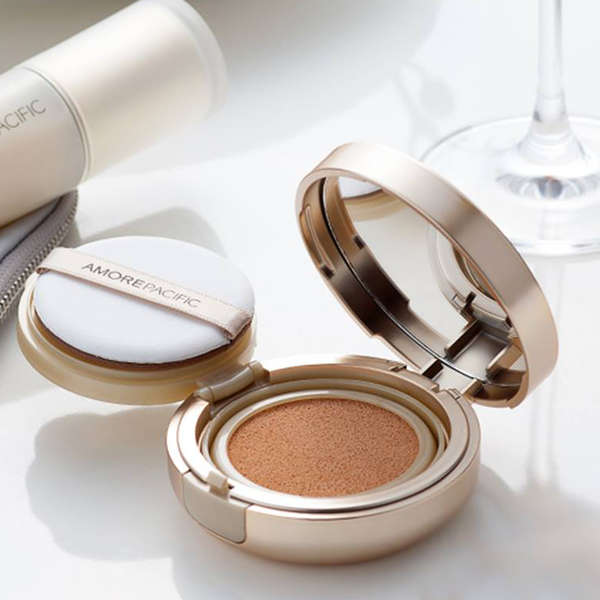 The Innovation of Cushion Technology
Amore Pacific sought to invent a product that enables us women to get UV protection and gives us a convenient and quick touch-up, and most importantly, keeps us looking naturally flawless. Their solution was a lightweight formula in a portable package, the Cushion Compact. The innovative Cushion Compact was an immediate international hit, quickly becoming a staple in womens' beauty bags since its debut in 2008, and leading the K-Beauty trend in the global market.
With its proprietary Cell-trap technology, Amore Pacific penetrates a low-viscosity mix of sunscreen and skincare into the specially-designed sponge of urethane foam. They controlled the fluidity and stabilized the formula by keeping the liquid formula within the 800,000 pores of each Cushion sponge. The Cell-trap technology also kept the liquid from spilling, running, or drying out.
According to the brand, they conducted over 3,600 tests using 200 different types of sponges. They were serious about engineering the perfect delivery system meant to be an alternative to goopy, liquid sunscreens so that women could more easily apply them on top of their makeup.
Why its formulation technology is exceptional according to AmorePacific:
It stabilizes liquid
Holds cold air-containing essence in a cooling sponge
It prevents smearing and enables smear-free re-application with an air-pump effect every time the cushion comes in contact with the skin.
Prevents the destruction of effective substances with a cooling container that isolates heat transfer
Its dual-layer design has an outstanding seal for preventing evaporation.
With Cushion Compact like Amore Pacific Color Control Cushion Compact, we can experience the convenience of quick makeup changing our entire beauty routine.