The best way to healthily fulfill your fizzy cravings is through this soda maker
This machine will make your fizzy soda healthy to keep you away from those sugar-filled drinks
Advertising Disclosure
Craving for soft drinks? On a very hot day, are you always looking for the fizzy satisfaction and thirst-quenching feeling a bottle of soda can bring, only to feel bloated and more thirsty the moment you gulp all of it?
If you are looking for an alternative that satisfies your craving for anything cold and fizzy without wreaking havoc on your health, the closest option is sparkling water. What's more, you can get access to this kind of beverage at home with SodaStream One Touch.
The SodaStream system enables consumers to carbonate water and flavor carbonated beverages at home as an alternative to purchasing pre-packed bottles or cans. A sparkling water system can also provide you with a great alternative to keep you away from those sugar-filled drinks you often reach for to get you through your day.
How does the SodaStream One Touch work?
The process is triggered with just a single tap. SodaStream One Touch is a machine that turns your flat tap water into delicious sparkling water in just a few seconds. Yes! You only need seconds to feel the fizz in your throat! This device has three different levels of carbonation. It comes with bottles and a carbonated cylinder making it easy for you to do the carbonation. Even kids at home can help themselves prepare it.
How to use a SodaStream One Touch?
Start by pouring some cold water into the bottle and screwing it into the machine. Then, push the carbonating button depending on how much fizz you want, and the water will automatically bubble in the bottle. Unscrew the bottle once the carbonation is done and your sparkling water is ready.
You can even add the flavor of your choice for more tasty and fun drinking.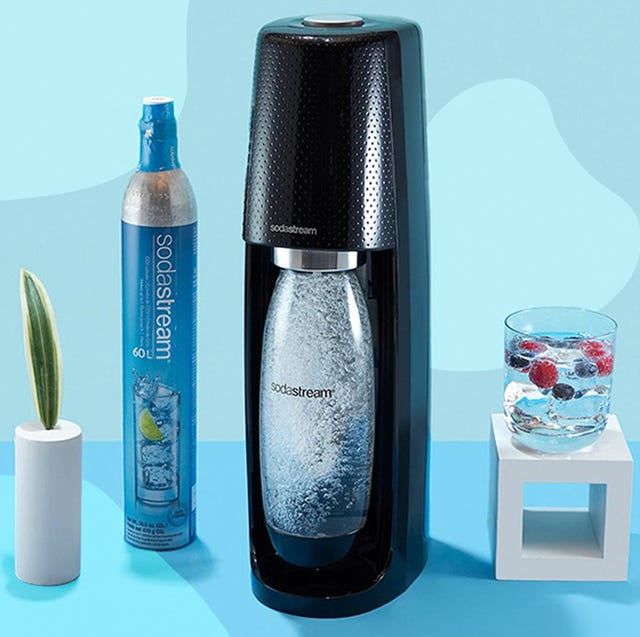 Using your soda maker is simple, and the time it takes for you to make your sparkling water is the time you spent to flip open a can of soda, or less.
 

 

 

View this post on Instagram

 

 
Is SodaStream One Touch worth buying?
In addition to saving you from multiple trips to the grocery stores and lugging around dozens of heavy bottles and cans, there are many ways you can save from owning a soda maker.
Cost-Efficient. With a SodaStream appliance, the per liter cost of sparkling water is a fraction of the cost of store-purchased carbonated water.
Healthier. Soft drinks do not have any benefits to offer your body when you drink them every day. Owning a machine that satisfies your cravings for soda by creating a healthy alternative will help you maintain your sugar consumption at a lower level than when you stock sodas at home. Sparkling water does not contain sugar as much as soda does.
Easy to Use. SodaStream home appliances like One Touch Electric, for example, have just a two-step process. Just plug in the water container and press the fizz button to enjoy your fresh, bubbly sparkling water.
Recently, several studies have shown that sparkling water has the same hydrational value as plain water and the only difference is the sparkling water is as fizzy as a soda but better. Better because it can also help you satisfy your soda craving without causing any harm to your body. SodaStream easily lets anyone in your family DIY bubbly freshness in a healthy, fun, and convenient way.