Make movie time at home enjoyable for granny with this chair speaker
Bring your TV speakers right next to you with this chair speaker
Advertising Disclosure
When you visit your parent's or grandparent's house the first thing you might hear is their loud TV. Elders struggle with a variety of hearing problems, so they tend to raise the volume. Thankfully, there are now innovations like the ChairSpeaker to make granny's movie time enjoyable for them too.
ChairSpeaker is a wireless speaker system for Television sets without Bluetooth technology. It is a smart and adjustable speaker system that lets your grandparents and people with hearing problems hear the television with voice-enhancing sound in a whole new way.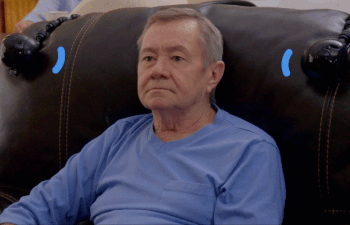 Designed to rest over the top of your couch, chair, recliner, or even headboard, these small but powerful speakers produce crisp, clear sound around you to deliver sound clarity you can enjoy.
This Chair Speaker doesn't just turn up the overall volume of what you're listening to, but it brings sounds closer to your ears. It works by decreasing background sounds while amplifying and clarifying human voices. It means you can watch more action shows or intense movies without having to turn up the volume to hear dialogues and instead focus on the overall story without the deafening bass or thumping sounds that drown out what matters most.
Why choose Chair Speaker?
Other than it feels like your very own home theater, the Chair Speaker possess noteworthy features:
Allow you to still listen to the natural sounds or communication around you
Eliminate ear fatigue, sweat, moisture, or uncomfortable feeling of headphones
Adjustable volume control that works independently of your TV
Immersive stereo sound with enhanced voice clarity
No expensive batteries, wireless connections, or complicated recharging
Ultimate freedom to get up, move, or sit down without being stuck in one place
What makes Chair Speaker different from a Bluetooth Speaker?
While Bluetooth technology is great for connecting on the phone to listen to music, it's too slow for broadcasting live sound without delay. The fastest Bluetooth technology in 2020 is aptX Low Latency with a delay of about 30 milliseconds. While 30 ms is fine for headphones, there is an echo when you play the TV and Bluetooth speaker at the same time. ChairSpeaker System has a delay of only 4 ms, making the sound perfectly in sync with the talking mouths on the screen. No echo!
Designed not only to work with any standard TV with RCA or optical outlets (digital or analog), it does not require you to connect to the internet or Bluetooth/wireless systems.
Voice Enhancing Technology in the Chair Speaker
The most important part of having an enjoyable TV experience is hearing the people talk. The Chair Speaker's Voice Enhancing Technology lets you have a clearer hearing and understanding of the context without increasing the overall volume.
Here's what people are saying about ChairSpeaker
Setting up a complicated Bluetooth or wireless speaker system is not as simple as you think for those who are not technically inclined. But with Chair Speaker, your parents and even grandparents will enjoy the movie with this simple listening solution.