Here's how to achieve grit-free, flavorful french press coffee for your travel
Make grit-free coffee anywhere with the world's lightest double-walled, vacuum-insulated, stainless steel coffee press
Advertising Disclosure
French press coffee is known to be a fancy coffee brewing method, much like drip coffee or espresso — but this process is pretty straightforward. You steep coffee grounds in hot water for about four minutes, strain them, and voila, sip them. Easy right?
But honestly, in this day and age, waiting for four minutes is a long time for urbanites. But ESPRO knows you can still make kick-ass coffee in less than 4 minutes with their Travel Coffee Press.
ESPRO Travel Coffee Press allows you to brew excellent french press coffee directly in an insulated travel mug. This stainless steel mug fits right in a car cup holder or bike's water bottle cage. So whether you are hurrying out in the morning trying to boost yourself on the go, this travel coffee mug is the perfect carry-around fix for your morning or coffee boosts.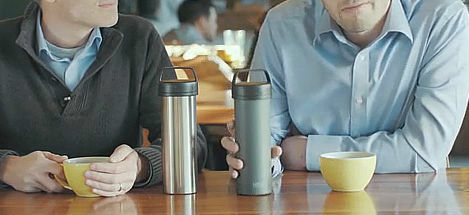 This travel mug has a double-walled vessel that ensures the water temperature stayed consistent. You do not have to worry about over-extracting your coffee because it has a vacuum seal meant for brewed coffee grinds to not mix with the coffee.
View this post on Instagram
What makes ESPRO Travel Coffee Press unique?
GRIT / SLUDGE FREE – Unlike other travel coffee presses, the patented double micro-filter keeps your cup extraordinarily free of grit and sludge; It leaves no sip behind.
NO MORE BITTERNESS – Pressing the filter stops extraction completely, so your coffee doesn't get bitter over time; The last drop tastes just like the first.
HOT FOR HOURS – Insulated double-walled stainless steel keeps your brew hot for hours and will never break; Enjoy your coffee at your own pace.
FRIENDS FOR LIFE – Built durably to brew for life; Designed to be your forever travel French press
We love French press coffee because it is easy to make and only requires one specific piece of gear: a coffee grinder. But it's not only just the convenience that makes it special, it's the slow but relaxing process of steeping.
But if you don't have time to enjoy the calmness of coffee making, ESPRO Travel Coffee Press is your go-to coffee maker. Use the world's lightest double-walled, vacuum-insulated, stainless steel coffee press to make it easier for you to enjoy freshly brewed French pressed coffee in just a few minutes.