Book a perfect cruise vacation with the world's leading cruise reviews and information site!
Make your dream cruise vacation a reality with this online cruise booking platform
Advertising Disclosure
Thinking about your next escapade after this pandemic? Why not try going on a Cruise trip and see as much of the world as you can. If you need a guide on how to plan your first-ever vacation on a cruise, go and look for the Cruise Critic.
Cruise Critic is the world's largest online cruise resource that helps you find and plan the best cruise you can book. They host the largest cruise community in the world, with more than five million people ranging from first-time cruisers to avid cruise fans.
They feature more than 650,000 cruise reviews, advice, and information from a team of cruise experts, from choosing a cruise ship to planning your time in port and daily activities.
This site also offers itineraries, pricing deals, and money-saving tips so you can get the most out of your best vacation on a cruise. With many different programs and activities you can do on this voyage, Cruise Critic will help you find all sorts of ways and activities to fill your days while onboard.
What does Cruise Critic have to offer?
Cruise reviews
Expert advice
Cruise itineraries and pricing
Cruise deals
Port and destination information
Tips and recommendations
Information for first-time cruisers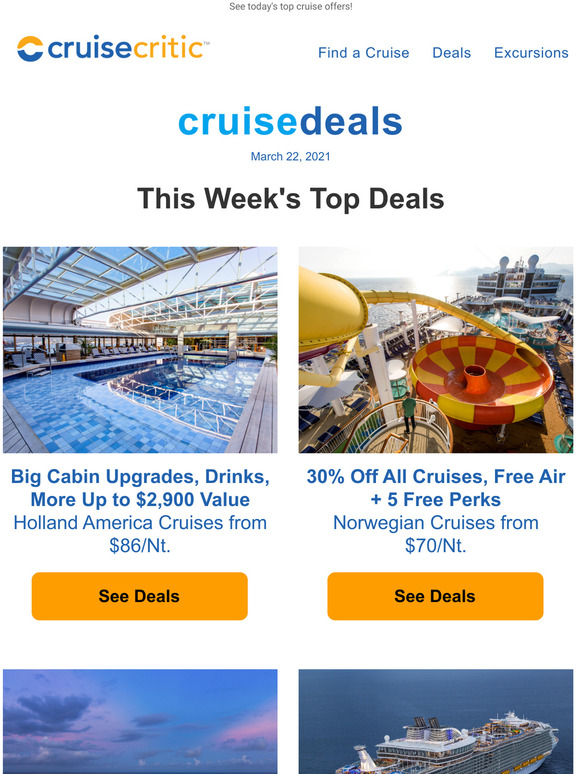 So whatever thrills you seek, Cruise Critics will give you an ample amount of information about cruising, so you don't have to worry if it's you are a first-time cruiser.